This chickpea cilantro salad is full of fresh ingredients and flavor. It's a super simple salad to make too and makes a healthy lunch or perfect side dish.
This easy vegan chickpea salad uses canned chickpeas (also known as garbanzo beans) which cuts down on the prep time immensely. If you want to cook your own, there are instructions further down for that too!
The chickpeas are tossed with chopped onion, cilantro and lemon zest and it's brought together with a simple lemon vinaigrette.
Make this great recipe for lunch, or as a healthy side salad for the main course. Chickpeas are part of the pea family and they're super good for you. Chickpeas are high in fiber, calcium, magnesium and more! They are wonderful plant-based protein.
Jump to:
Ingredients
Find the amounts of the ingredients for this healthy recipe written in the printable recipe card at the bottom of this post. Here is a rundown of what you will need for this chickpea cilantro salad.
Canned chickpeas, drained and rinsed of their cooking liquid (aquafaba). You can use the excess aquafaba in other recipes like vegan mayo.
Red onion
Fresh cilantro (coriander).
Lemon - both the lemon zest and the lemon juice are used
Extra virgin olive oil or light olive oil
Fresh garlic
Maple syrup
Salt and black pepper
Method
Using a sharp knife, finely dice the red onion and add it to a small bowl. Cover with water and let it sit in the water for around 10 minutes. This will help remove some of the strong bite from the raw onion.
Drain and rinse the canned chickpeas and add them to a large bowl. On a chopping board, finely chop the cilantro.
Add the chopped cilantro to the bowl along with the finely grated zest of a lemon. Drain the onions and those to the bowl.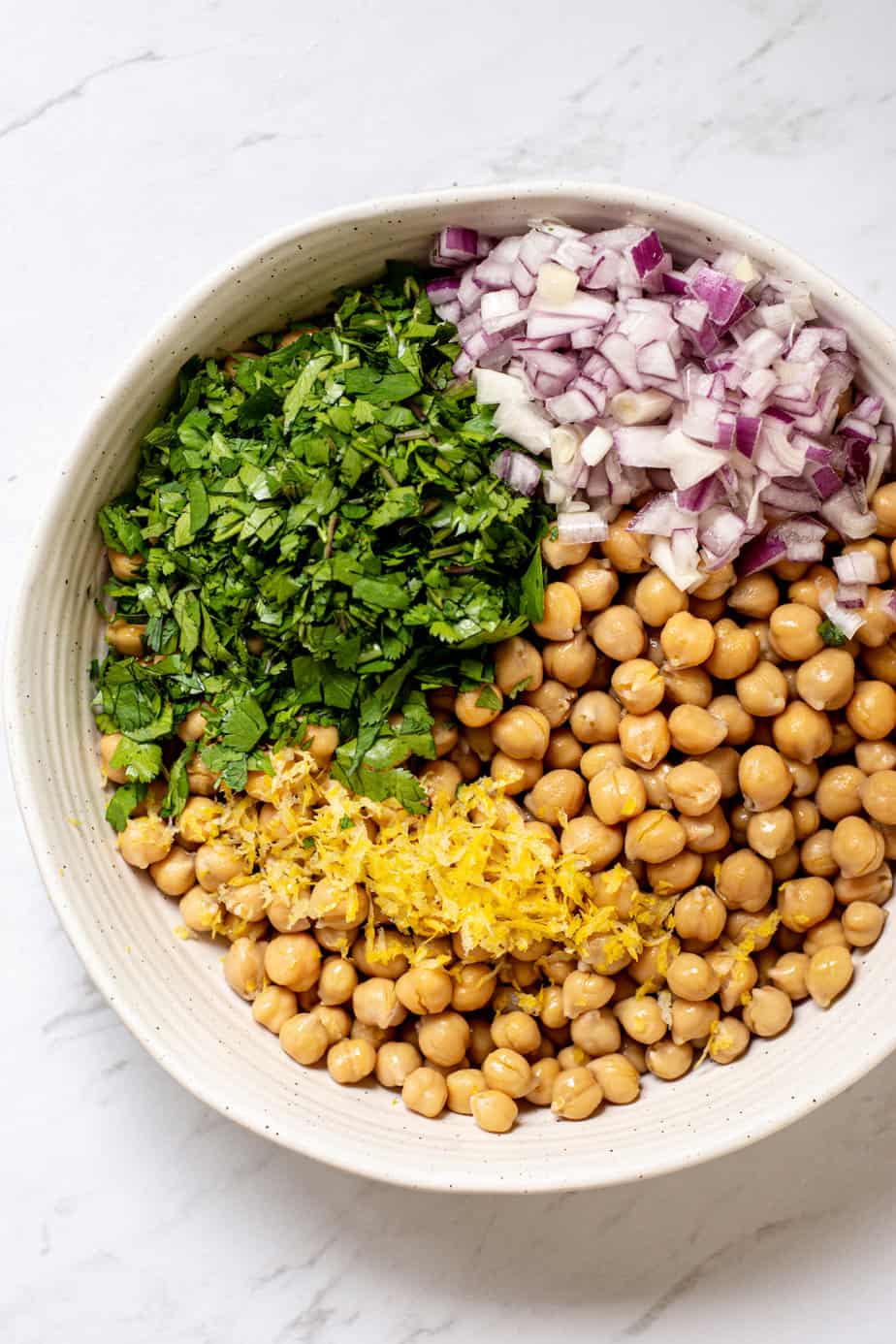 In a small bowl or jar add olive oil, lemon juice, maple syrup, salt and finely minced garlic. Stir it well to mix all the dressing ingredients together. Drizzle this simple vinaigrette over the salad ingredients. Toss everything together well to coat.
Season with black pepper and more salt to taste.
Serve the salad immediately, or cover and keep it refrigerated until time to serve. The longer the salad sits the better the flavors will infuse which is helpful if you make this garbanzo bean salad for meal prep.
Storing
This easy chickpea salad will store well in an airtight container in the fridge for 4-5 days. This delicious salad is perfect for summer gatherings and potluck dinners.
Additions and substitutions
Swap the red onion for green onion or chives. Green onions and chives will bring less bite.
If you want to add fresh vegetables, there is a lot that would work! Try add sweet corn kernels, cucumbers, cherry tomatoes (or tomato slices) baby spinach or finely diced bell pepper.
If you're not a cilantro fan, you can swap it with other fresh herbs like fresh parsley, fresh dill or fresh basil.
Fresh lemon juice can be swapped with fresh lime juice or apple cider vinegar.
Chopped kalamata olives can be added to bring extra tang.
A pinch of chili powder or cayenne pepper can be added for a hint of spice
Cooking your own chickpeas.
If you want to cook your own chickpeas for this recipe, start soaking the chickpeas the previous night to make the salad the next day. If you soak the dried chickpeas overnight for 10 hours, or longer, it will lessen the phytic acid which is present in all grains, nuts and seeds.
After soaking, drain and rinse the chickpeas.
In a saucepan add the soaked and rinsed chickpeas and 3 x the amount of water to how many chickpeas you have, e.g, 2 cups chickpeas in 6 cups water.
Let it come to a boil, reduce the heat to low-medium and let it simmer for about 1.5-2 hours until the chickpeas are completely soft. Drain them, then let them cool down completely before using in the recipe.
More easy recipes
Looking for another easy lunch idea? Next time try these:
Full Recipe
Chickpea Cilantro Salad
This chickpea cilantro salad is full of fresh ingredients and flavor. It's a super simple salad to make too and makes a healthy lunch or perfect side dish.
Ingredients
2 x 15oz canned chickpeas
½ medium red onion
½ packed cup fresh cilantro
1 Tablespoon lemon zest
3 Tablespoons olive oil
1 ½ Tablespoons lemon juice
1 small garlic clove
1 teaspoon maple syrup
¼ teaspoon salt, plus more to taste
Black pepper
Instructions
Using a sharp knife, finely dice the red onion and add it to a small bowl. Cover with water and let it sit in the water for around 10 minutes. This will help remove some of the strong bite from the raw onion.
Drain and rinse the canned chickpeas and add them to a large bowl. On a chopping board, finely chop the cilantro.
Add the chopped cilantro to the bowl along with the finely grated zest of a lemon. Drain the onions and those to the bowl.
Finely mince the garlic clove and add it to a small bowl or jar along with olive oil, lemon juice, maple syrup and salt. Stir it well to mix all the dressing ingredients together.
Drizzle this over the salad. Toss everything together to coat. Season with black pepper and more salt to taste.
Serve the salad once made, or cover and keep it refrigerated until time to serve. The longer the salad sits the better the flavors will infuse
Nutrition Information:
Yield:

6
Serving Size:

1
Amount Per Serving:
Calories:

261
Total Fat:

11g
Saturated Fat:

1g
Trans Fat:

0g
Unsaturated Fat:

8g
Cholesterol:

0mg
Sodium:

350mg
Carbohydrates:

33g
Fiber:

9g
Sugar:

6g
Protein:

10g